Carron
Carron Baths & Shower Official UK Stockist
Carron baths, shower and bath whirlpool Jacuzzi's- Carron control of the manufacturing process which is essential in delivering first-class products.
They've always achieved this from their HQ in Falkirk, Stirlingshire. The brand stands alongside the Made in Britain campaign, ensuring every product is hand-made in Britain. 
Their products take interesting inspiration with their colours and styles and are made with their own material Carronite™. This is a triple layered reinforcement for stability, strength and durability.  
Carron Baths have been operating for over 250 years within a variety of markets. They started as an iron works and manufacturing cannons, then moved onto household and public products (including the famous red telephone boxes). Today the same site the company continues to manufacture high quality baths. 
Carron Whirlpool Jacuzzi Systems
Carron's whirlpool jacuzzi systems offer a range of benefits to help rejuvenate weary muscles and tired minds.
Whether your goal is increased wellbeing, to relieve tired muscles after sports or exercise or just plain, self-indulgent relaxation, Carron Bathrooms have a C-Lenda whirlpool system that will take your bathing to the next level.
The C-Lenda Whirlpool system is the most technologically advanced system available on today's market. This unique jet system has been designed by Markon in New Zealand and ensures the most comfortable bathing experience over a wide range of settings and functions.
Almost all baths in the Carron range are compatible with this whirlpool system and are made to order and hand-fitted to your specification by skilled Carron technicians.
Bathroom Luxe are proud to be Official UK Stockists of Carron Baths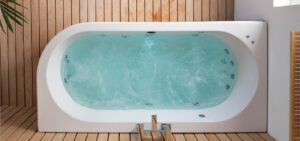 Our Best Price Promise
"We will always provide our Best Price Quotation or match & beat any like for like quotation."

For a Speedy Quote within 1 hour - use the 'Add to Quote' button below.
For a Specified List Enquiry - Email us at [email protected] or call us on 0191 389 8889